Two Global Exhibition Leaders Announced the Launch of Three Series of Plastics & Rubber Exhibitions in ASEAN
Date: 25 Sep 2023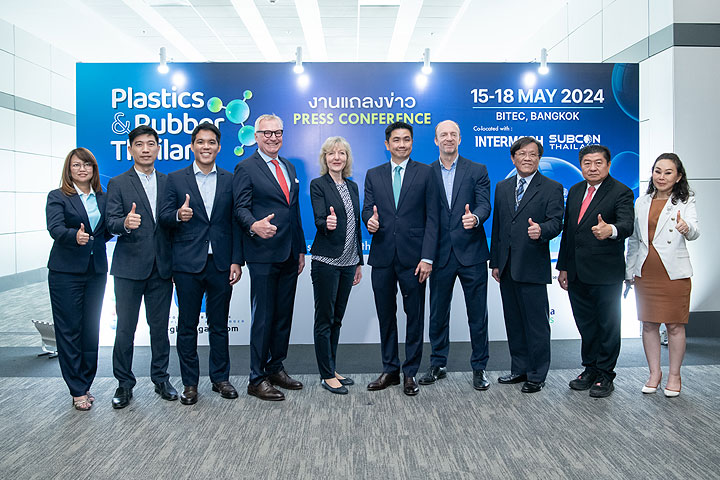 Two global leaders in exhibition organisers, Messe Düsseldorf Asia and Informa Markets announced a partnership, joining force to jointly organise exhibitions for the plastics and rubber industries in Southeast Asia. The collaboration will see 3 series of Plastics & Rubber events from 2024 onwards, starting with Thailand, namely 'Plastics & Rubber Thailand 2024, scheduled to be held during 15 — 18 May 2024 at BITEC, Bangkok. It will be followed by 'Plastics & Rubber Indonesia' and 'Plastics & Rubber Vietnam'.
Messe Düsseldorf Asia and Informa Marketsaim to organise exhibitions for the plastic and rubber industries that align with strategies to prepare industrialists for the green economy and enable them to adapt to the transformation of sustainable production. This collaboration includes three series of events to be held in Thailand, Indonesia, and Vietnam, with the goal of leveraging the strengths and expertise of both partners to deliver enhanced business opportunities and experiences for these industries.
Petra Cullmann, Executive Director of Messe Düsseldorf GmbH,said, "This collaboration is an extension of our long-standing, successful business partnership in the region. It consolidates the series of exhibitions for the plastics and rubber manufacturing industries, expanding to cover Thailand and Indonesia from 2024 onwards. We aim to enhance the customer experience, create more opportunities, and foster business growth, particularly as these industries work toward sustainability and circular economy goals."
The combination of Informa Markets' deep regional expertise and network, along with Messe Düsseldorf's global expertise in the plastics and rubber manufacturing sector — as evidenced by their organization of K Fair, the world's #1 trade exhibition for plastics and rubber by Messe Düsseldorf Asia — will help expand the event's presence in the region and effectively meet business needs. "Therefore, the Plastics & Rubber event is poised to advance as the premier regional platform for the constantly evolving plastic and rubber industries in the dynamic Southeast Asian market," Cullmann said.
Sanchai Noombunnam, Country General Manager of Informa Markets Thailand, has unveiled the collaboration's objective, which is to provide new experiences for industrialists and entrepreneurs, regardless of their business size. This collaboration aims to offer comprehensive access to production technologies for plastics and rubber, as well as knowledge and innovations, enabling the industry to align with evolving standards for reducing pollution in the production process and embracing sustainability practices.
The plastics and rubber industries in Thailand, Indonesia, and Vietnam hold significant positions in the global market. Thailand stands as the leading producer and exporter of plastic and rubber products to key markets including China, Japan, India, and the ASEAN region. Indonesia and Vietnam are also players in this sector, serving as vital components of the regional and global supply chain. This partnership aims to bolster the presence of Plastics & Rubber Thailand 2024, scheduled to be held from May 15 to 18, 2024, at BITEC in Bangkok. The event will be a showcase of the latest technologies and innovations in plastic and rubber production, encompassing areas such as molding, raw materials, chemicals,
surface preparation, and automation. Furthermore, it will serve as a platform for business matchmaking between buyers and sellers, not only within Thailand but also across borders. This event will connect diverse industrial networks, including automotive parts manufacturers, electronics component producers, medical equipment manufacturers, consumer product companies, building and construction material suppliers, and clean energy technology.
Plastics & Rubber Thailand 2024is co-located with INTERMACH, the technology and machinery exhibition for manufacturing, as well as SUBCON THAILAND, which brings together subcontractors from diverse industries. Together, these events create valuable business opportunities, attracting over 47,000 industrialists from various sectors. "We are entering a new era of innovation, and our collaboration stands as a testament to our shared commitment to the development of the industry and the region," Sanchai said.
During the seminar titled 'Impacts of CBAM and Transformation in the Thai Plastic and Rubber Industries,' Veera Kwanloetchit, President of the Plastics Institute of Thailand, and Siripat Koian, Chief People and Sustainability Officer at Thantawan Industry Public Co., Ltd.,discussed the plastics industry. They highlighted that the total production volume of all types of plastics in 2021 reached 390.7 million tons. Historically, plastics were processed into various products, including packaging, electronic devices, construction equipment, automotive industry components, safety products, and medical equipment. For domestic plastic products, the total value amounts to 1.3 trillion baht, equivalent to 6.74% of the country's GDP, underscoring its significant economic importance.
As for the rubber industry, rubber is an important material for many products. Thailand is one of the world's largest producers and exporters of natural rubber. At the same time, synthetic rubber is produced for domestic use and for export, with both types of rubber are used to produce products in a variety of industries, such as car tires, rubber gloves, and rubber hoses. For rubber products in Thailand, the total value is 4,674 kilotons. Hence, this reflects that the two materials still have higher demand, and there is a very significant trend toward application at the industrial level.
In the rubber industry, rubber is a vital material used in many products. Thailand ranks among the world's largest producers and exporters of natural rubber. Additionally, synthetic rubber is manufactured for both domestic use and export. These two types of rubber find applications in various industries, including the production of car tires, rubber gloves, and rubber hoses. The total value of rubber products in Thailand amounts to 4,674 kilotons. This indicates a sustained high demand for these materials, and there is a notable trend toward increased industrial-level applications.
The introduction of the CBAM (Carbon Border Adjustment Mechanism) and the preparations within the plastic and rubber industry to enhance production processes for efficiency, with the goal of becoming a 'low carbon industry' in alignment with Thailand's 'Net Zero' objectives, presents another challenge for entrepreneurs. These adjustments are crucial to not only increase production efficiency but, more importantly, to create value through the development of environmentally friendly products.