Thailand's Plastic and Rubber Industries to Bounce Back With 'Plastic and Rubber Thailand 2023' Taking Thailand Toward Sustainability
Date: 24 May 2023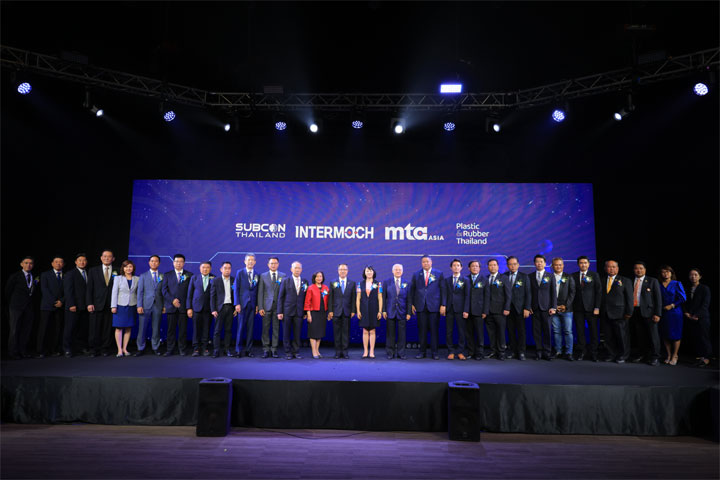 "Informa Markets Thailand" forecasted possible expansion of the plastic and rubber industries in Thailand and ASEAN thanks to the return of tourism and the re-opening of China's borders and indicated that the industries had to adapt quickly to stay in the world markets where sustainability has become essential. The company also believed "Plastic & Rubber Thailand 2023" under the concept of "Development towards Sustainability" which will be Thailand and ASEAN's largest exhibition on plastic and rubber technologies in collaboration with INTERMACH and SUBCON Thailand with more than 40,000 experts, entrepreneurs, and alliances from all over the world would play a big part in strengthening the Thai business and pushing it to the world stage. The exhibition will take place during 10-13 May 2023 at BITECBangna.
Mr. Sanchai Noombunnam, General Manager of Informa Markets Thailand,the world's leading company and expert in organizing more than 450 exhibitions in 30 countries and meetings between buyers and sellers in 15 industries worldwide, as the organizer of "Plastic & Rubber Thailand 2023" under the concept of "Development towards Sustainability", revealed that overall, the plastic and rubber industries in Thailand and ASEAN had started to bounce back from last year due to positive factors of the return of tourism, the re-opening of China's borders, and the return of productions of various industries. The plastic and rubber industries play an important role in supporting the expansion of downstream industries such as automotive parts, home appliances, electrical and electronic parts, packaging, medical devices, construction, and so much more.
Thailandis a most important of plastic and rubber manufacturing in the world, the import of plastic and resin products is expected to increase approximately by 3-5%. Thailand is also a main manufacturer in three plastic industries: thermoplastics, packaging, and other final products like plastic pipes, plastic sheets, etc. Furthermore, the country manufactures thermoplastics for export to China, Japan, India, and ASEAN as its main markets. It also exports final products to its partners in the world market with a focus on USA, Japan, and ASEAN.
Plastic converters need to adjust process and accommodate consumer's behaviors towards sustainability and environmental friendliness, like the use of environmental-friendly products and the reduction of carbon footprint, or it could face the imposed carbon tax, which will inevitably impact the productions. Apart from tax regulations imposed by foreign countries, Thailand also acts on sustainability by having a BCG economic model to meet the goal of sustainable development set by the UN.
Mr. Sanchai Noombunnam, General Manager of Informa Markets Thailandsaid that "Plastic & Rubber Thailand 2023" is an exhibition where you can discover technologies and process forplastic and rubber manufacturing. This will be the first time Thailand gets to show its potential as an organizer for this event. The highlight of this exhibition will be the gathering of experts together with modern technologies for plastic and rubber industry, and cooperation between the government and private sectors in creating networks within the industry. Visitors will have direct access to new technologiesfor plastic and rubber manufacturing and other related industries: such as machinery, chemical and raw materials, mold technology, machinery parts, automotive, electrical / electronics, medical devices, packaging, instruction, agricultural tools, and so much more.
Visitors will also have an opportunity to visit the DIGITALIZING AND DECARBONIZING ECOSYSTEM zone, which resulted from an MOU from the Decarbonization of Plastic Products in Thailand project between Mitsubishi Electric Factory Automation (Thailand) Company Limited andalliance, Thantawan Industry Public Company Limited. The system will retrieve data from machines and facilities to record data on the energy consumption in production then calculate carbon footprint in real-time. The manufacturer can use reports apply energy consumption more efficient.
Visitors will see mold technologies for plastic and rubber manufacturing at TDIA Pavilion, where mold makers, component parts, and equipment distributors will showcase their products and offer suggestions and advice on the processes involved so that participants can follow the changes in the industries and meet the growing markets' demands.
Apart from the exhibition of production technologies, there will be conferences and workshops on various subjects to promote knowledge of proper practices from upstream to downstream. This can also be used for other businesses in the futuresuch as Bioplastics and Application by TBIA, Developing Rubber Formulas: Now and Future Trends by KMITL in collaboration with PST, and much more. There will also be business matching so both visitors and exhibitors can benefit from this event to the maximum.Stay up to date with new trends in the plastic and rubber industries to create sustainability at Plastic & Rubber Thailand 2023 taking place during 10-13 May 2023 at the Bangkok International Trade & Exhibition Centre: BITEC. At this venue, patrons can also visit the INTERMACH, an exhibition of technologies and machines in the production industry, and SUBCON Thailand 2023, where subcontractors gather for more business opportunities. For registration or more information, visit www.plasticrubberthailand.com.