Informa to Take Sustainable Plastic to Another Step with Driving Sustainability by DIGITALIZING in 'Plastic and Rubber Thailand 2023'
Date: 24 May 2023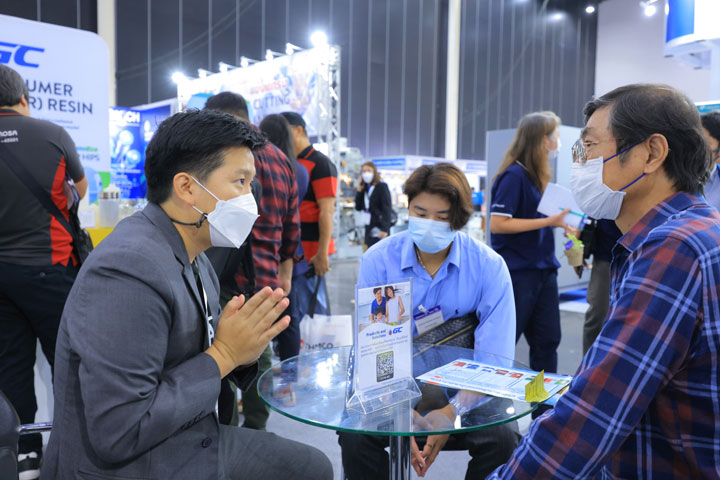 "Informa Markets Thailand" joins the eco-friendly trend in the plastic and rubber industries by encouraging the development towards sustainability at "Plastic & Rubber Thailand 2023", in collaboration with both government and private sectors, with an aim to reach an agreement on carbon reduction in the Thai plastic industries. Meanwhile, Mitsubishi Electric is ready to present SCADA GENESIS64™ software, a real-time carbon tax calculator. All will be happening at "Plastic & Rubber Thailand 2023" during 10-13 May 2023 at BITECBangna.
Mr. Sanchai Noombunnam, General Manager of Informa Markets Thailand,the world's leading exhibition organizer and expert in organizing more than 450 exhibitions in 30 countries and meetings between buyers and sellers in 15 industries worldwide, as the organizer of "Plastic & Rubber Thailand 2023" under the concept of "Development towards Sustainability", revealed that the plastic and rubber industries in Thailand are one of the country's main industries and have important roles in the world's market. Currently, Thailand is one of the world's most important plastic and rubber manufacturers and exporters. It mainly exports to China, Japan, India, and ASEAN as its main markets. It is also a manufacturing base forother industries' plastic and rubber products for domestic consumption and exports final products to its partners in the world market with a focus on USA, Japan, and ASEAN.
However, Thailand's strong plastic and rubber industries as a manufacturer and potential exporter still need to be aware of the importance of sustainability. The reason is to accommodate the consumer's behaviors towards sustainability and environmental friendliness as these are currently talking points in everyday conversation. Sustainability also plays an important role in today's economy as it leads to the carbon tax, which never existed before.
Mr. Sanchaisaid that productions with reduced carbon emissions are currently a global issue, especially in Europe, the USA, and Japan, all of which are Thailand's main markets. Therefore, Thai manufacturers must be prepared for relevant regulations set by these countries. Moreover, Thailand must improve its ability further and meet the world's market needs, answering to current trends. "Plastic & Rubber Thailand 2023" will facilitate the collaboration between manufacturers and the government sectors in signing MOUfor the Decarbonization of Plastic Products in Thailand. The event will also promote the growth of these industries and showcase products that will be launched at this event.
Mr. Wichiene Ngamsukkasemsri, Managing Director ofMitsubishi Electric Factory Automation (Thailand) Company Limited, said in reference to the MOU that Mitsubishi Electric will retrieve data from machines and facilities to record data on the energy used in production. The system will then calculate the carbon footprint for each product in real-time and present it via SCADA GENESIS64 platform. The manufacturer will then be able to use those energy reports without having to manually record the data. These data can also be used to assess and allocate energy usage so that it becomes more efficient.
This cooperation corresponds to the company's policy to encourage Thai industries to enter the 4.0 system with the help of well-trained engineering teams who got their training in Japan so that Thai industrial plants are modern and automated. This will increase their efficiency in energy usage and reduce their energy consumption, which is a part of their e-F@ctory concept. SCADA GENESIS64™ is one of the company's tools to help Thai manufacturers avoid future carbon tax.
Mr. Kraisri Phankitnirundon, Senior Manager for Strategies and Sustainability under the Department of Corporate Strategies, Plans, and Business Development, IRPC Public Company Limited, and a representative fromPlastket.com said that PLASTKET.COM, in collaboration with Mitsubishi Electric Factory Automation (Thailand) Company Limited, will be presenting Plastic E-Commerce Platform innovation to promote and encourage energy savings and to help reduce costs in the plastic industry. This automatic e-factory solution by Mitsubishi Electric will be found on the PLASTKET.COM platform.
He also suggested that manufacturers should now start using high-quality recycled thermoplastics which are environment-friendly and have carbon credits that can be calculated. Furthermore, PLASTKET.COM will be showcasing other products that help reduce carbon such as solar rooftops and ceramic coating in this exhibition.
This activity is a part of continuous cooperation between PLASTKET.COM and Mitsubishi Electric Factory Automation (Thailand) Company Limited together with the Thai Plastic Industries Association and the Plastics Institute of Thailand under the Decarbonization of Plastic Products in Thailand program which started in August last year.
Mr.Veera Kwanlertchit, President of the Plastics Institute of Thailand, said that the Plastics Institute of Thailand was determined to develop the industry according to the plan in becoming the driving force in creating a sustainable plastic industry. Carbon emission is a problem for every industry, including the plastic industry, and as a mission of the Institute to develop technologies and management, the Institute has encouraged private sectors to reduce their carbon emissions by using tools to improve production processes, resulting in less loss in production. It also encourages the use of Post-Consumer Resin or PCR which emits less carbon than newly produced plastic and offers an alternative use of bioplastic which emits less carbon during the production process.
Dr. Paweena Panichayapichet, Senior Official at Thailand Greenhouse Gas Management Organization (TGO), under the Ministry of Natural Resources and Environment,said that Thailand has joined the United Nations Framework Convention on Climate Change (UNFCCC), so it has to participate in solving the climate change issues by promoting sustainable development. TGO has a mission and main goal in promoting and developing potential, creating knowledge and network in target groups, and providing ideas to both government and private sectors about the reduction of carbon emissions so that these ideas and suggestions can be practically implemented.
Visitors can learn more about other useful functions of SCADA GENESIS64™ which will be presented during the Driving Sustainability by DIGITALIZING for Plastics Industry seminar at "Plastic & Rubber Thailand 2023", which will be held together with INTERMACH, an exhibition of technologies and machines in the production industry, and SUBCON Thailand 2023, during 10-13 May 2023 at the Bangkok International Trade & Exhibition Centre: BITEC, Bangkok.Interested parties can register to attend this seminar for free via https://bit.ly/MELFT-INTERMACH2023or go to www.plasticrubberthailand.comfor more information.